May 18th, 2015
GAZING BALLS
Also known as a gazing globe, yard globe, lawn ball, or garden ball, these outdoor decorations have been featured in gardens for hundreds of years! Gazing Balls have become a very popular decor, and are used in famous gardens and home gardens throughout the world.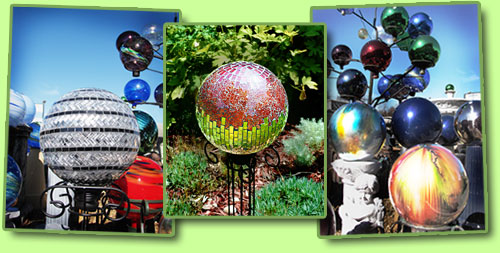 A History of the Gazing Ball:

Hand blown in Venice by skilled Italian craftsmen, Gazing Balls started to show up in royal gardens during the 13th century. Historians recorded gazing balls being strategically placed within Royal gardens allowing a butler to glance at guests, without being seen, to check if anyone needed assistance. Homeowners would also use them to glance around corners of their homes as guests arrived, therefor could greet a specific guest accordingly. The Bavarian King, Ludwig II, decorated his Herrenchiemsee Palace with hundreds of Gazing Balls. Gazing Balls were thought to possess good luck and to bring prosperity to the owners, fending off evil spirits and bad luck. They became a standard feature of many European Gardens and are particularly associated with the Victorian era.

Come see our great new selection of Mosaic Gazing Balls
and Glow-in-the-Dark Gazing Balls. We carry a large selection of beautiful Gazing Balls in a wide variety of colors, shapes and sizes. Available in blown glass or stainless steel!